After the passing of a former Rainbow Warriors football star, Hawai'i lawmakers and leaders are showing their aloha.
37-year-old Colt Brennan, the former University of Hawaii (UH) star quarterback, died Monday in a California hospital. 
He led the Warriors to its finest season ever, going 12-0 in the 2007 regular season. He finished third in the Heisman Trophy balloting that same year and was later drafted by Washington in the NFL draft.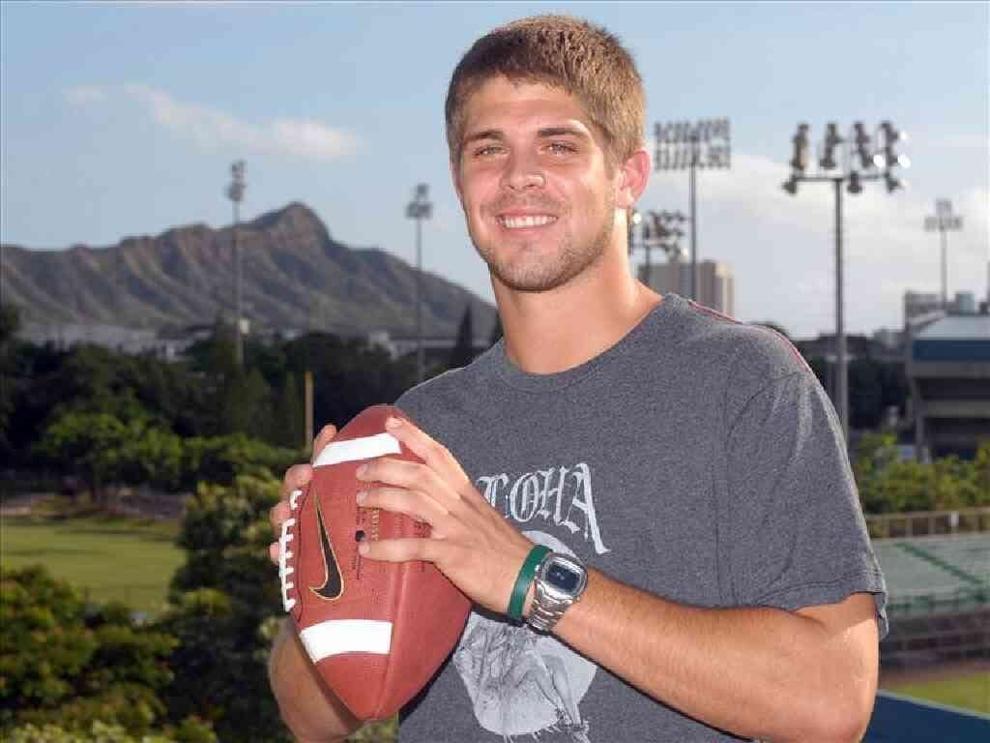 Now, Hawai'i is remembering the football legend -- like Governor David Ige, who released the following statement on Brennan's death:
Colt Brennan electrified the entire State of Hawai'i at the peak of his college career with the UH Rainbow Warrior Football team. He will always be remembered for his brilliance, his leadership and how he and his team brought the people of Hawai'i together during that exciting and memorable 2007 season. Dawn and I join our community in mourning the loss of Colt Brennan. We send our deepest condolences to Colt's family and loved ones.
Honolulu Mayor Rick Blangiardi posted his condolences on Facebook, writing, "Beyond his legendary playing days for the University of Hawaii football team, his volunteer work with kids and speeches to Rainbow Warriors in the years following, showed us his love for the islands and just how big his heart was."
 On Twitter, Congressman Kai Kahele also sent his condolences to friends and family of the former Rainbow Warrior.
"Hawai'i remembers UH quarterback and Heisman finalist Colt Brennan for his athleticism and the positive energy brought to Rainbow Warriors football," Kahele tweeted.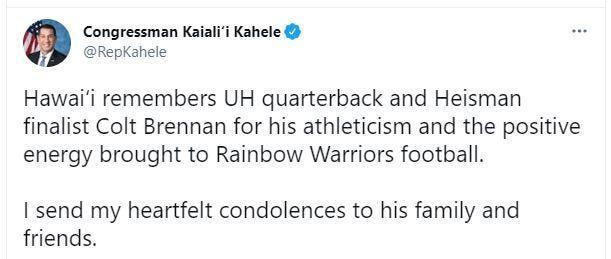 Honolulu City Councilmember Augie Tulba remembers Brennan as not only a football player but a friend. His heartfelt post captured just how dynamic their friendship was.
"Throughout life you will meet a person who is unlike you. You can talk to this person and never get bored, you laugh, you can tell them things and they won't judge you. This person is a FRIEND. Don't let him or her GO," Tulba posted.
Maui Mayor Michael Victorino also expressed his sympathy and condolences to those who knew and loved Brennan. He released the following statement: 
"Joycelyn and I were very sad to hear about the untimely death of Hawaii sports star Colt Brennan.  We share our deepest condolences with his parents, two sisters, extended family members, friends and fans.
In 2007, quarterback Colt Brennan led the University of Hawaii to a record 13-game winning streak, its third WAC championship and he shined the national spotlight on UH football at the 2008 Sugar Bowl Game. Colt Brennan gave everything to his fans, and he will always be remembered as a Rainbow Warrior who was full of heart. Sometimes the expectations put upon successful athletes and entertainers become too heavy to bear. We ask everyone to be compassionate and respectful during this difficult time for his loved ones."