The dream season continues for the University of Hawaii Rainbow Wahine basketball team, as one of their own is now slated for the big leagues.
Leading her team to the Big Dance, shattering school records, and claiming this year's title of "Big West Conference Player of the Year," Amy Atwell is now just the second in UH history to go-pro following Monday night's WNBA draft.
Surrounded by teammates, during this year's selection show, Atwell will join all time great Judy Mosley, as a Manoa representative in the league.
Headed to the the Los Angeles Sparks, Atwell was chosen in the third round, claiming the 27th overall pick. She concludes her sixth season with the Wahine leaving her legacy as the golden girl from beyond the arc.
Picking up 205 career three pointers, 76 of which came just this past season, she holds both the University's career three point record and the single season record.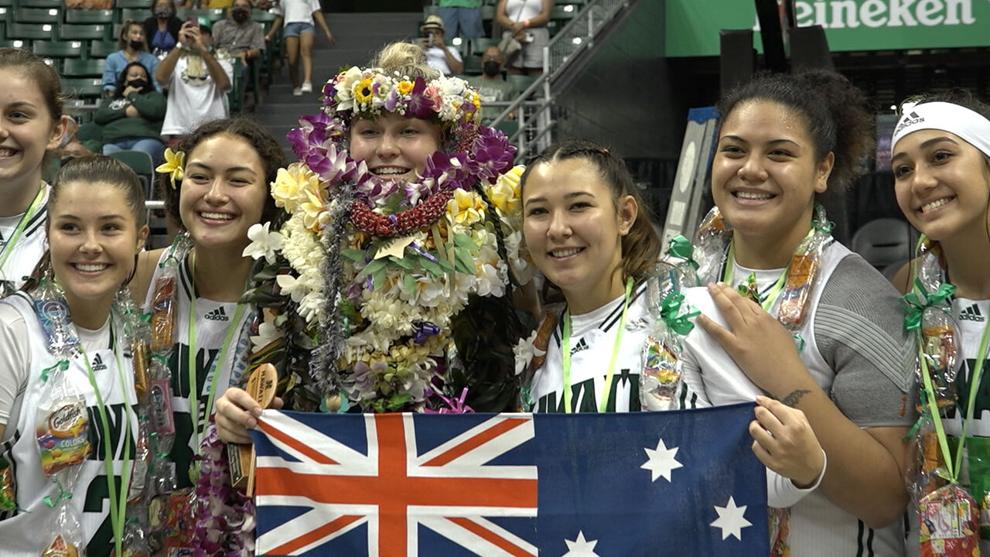 Atwell joins WNBA all-stars including the Ogwumike sisters--Erica Wheeler-- and Brittney Sykes.
Wahine Head Coach Laura Beeman basking in Atwell's accomplishment says she recognizes the continuous work it will take for Amy to make it at the next level.
"So I think it was probably this summer going into this season is where it was like Amy could actually make a roster," Beeman explained. " Her work begins now, you know getting to the pros is not what's hard. Staying, making it as a pro and then staying as a pro is what is hard. "
Beeman added that, not only does this set a precedent for the next generation of female hoopers, but she hopes it will also inspire the remaining Wahine on the current UH roster to work that much harder.
She says in Atwell's success, she hopes the girls will truly recognize the potential they have as individuals and as a collective squad to do the same thing, make it at the next level.