HONOLULU (KITV4) - The Honolulu Zoo welcomed a new prickly friend named Petunia an African pygmy hedgehog.
"We welcome having a hedgehog in our zoo so keiki will be able to see what it looks like since they are not found in Hawaii," said Linda Santos, zoo director.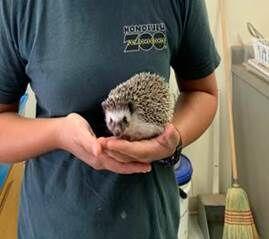 They have become a very popular pet in the U.S. but are illegal in Hawaii as they could threaten native species. They are about the size of a guinea pig and their bodies are covered with about 6,000 short quills. 
"Petunia will be a nice addition to our Keiki Zoo where she will be housed on exhibit," added Santos.