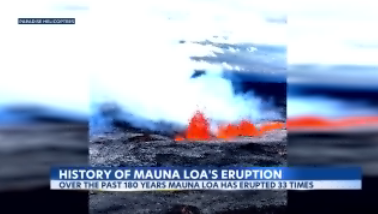 As featured on
The world's largest active volcano has been studied extensively, so scientists have a good idea of what may take place during this eruption.
Just like the last time it erupted in 1984, Mauna Loa's current activity started at the summit and moved to a rift zone, areas where vents and fissures form in the ground and lava spews out.
Weather Alert
...SMALL CRAFT ADVISORY IN EFFECT UNTIL 6 PM HST THIS EVENING...

* WHAT...Northeast winds 15 to 25 knots.

* WHERE...Oahu Leeward Waters and Maui County Leeward Waters.

* WHEN...Until 6 PM HST this evening.

* IMPACTS...Conditions will be hazardous to small craft.

PRECAUTIONARY/PREPAREDNESS ACTIONS...

Inexperienced mariners, especially those operating smaller
vessels, should avoid navigating in these conditions.

&&


Currently in Honolulu
75°F
Mostly Cloudy
75°F / 67°F
Select whether each of the following should be a major factor, minor factor, or not a factor in college admissions.
You voted: