Mauna Loa Eruption
Courtesy - AJ Taaca

Updated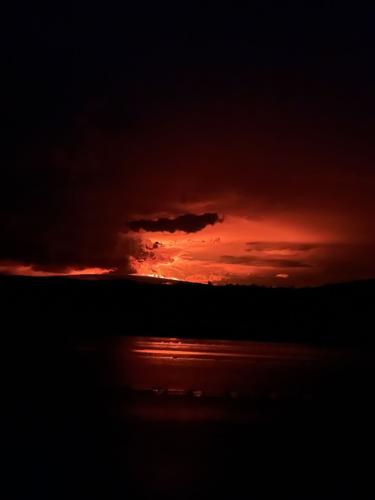 As featured on
The County of Hawaiʻi has opened shelters in Kaʻū at the Robert Herkes Gymnasium in Pāhala and at the Old Airport Gymnasium (Kailua Park) in Kailua-Kona amidst reports of self-evacuations along the South Kona coast.
Weather Alert
...FLOOD WATCH FOR MAUI COUNTY THROUGH SUNDAY AFTERNOON...
...FLOOD WATCH FOR OAHU STARTING SATURDAY MORNING...

...FLOOD WATCH IN EFFECT FROM SATURDAY MORNING THROUGH SUNDAY
AFTERNOON...

* WHAT...Flash flooding caused by excessive rainfall is possible.

* WHERE...Oahu.

* WHEN...From Saturday morning through Sunday afternoon.

* IMPACTS...Flood prone roads and other low lying areas may be
closed due to elevated runoff and overflowing streams. Urban areas
may receive more significant flooding and property damage due to
rapid runoff.

* ADDITIONAL DETAILS...
- A developing surface trough will act as a focus for cloud and
shower development over Oahu starting on Saturday. The bulk
of the rainfall is expected to fall over windward slopes and
coasts, but some heavy showers could spread to leeward areas,
where stream flow could also become elevated.


PRECAUTIONARY/PREPAREDNESS ACTIONS...

You should monitor later forecasts and be prepared to take action
should Flash Flood Warnings be issued.

&&


Currently in Honolulu
70°F
Partly Cloudy
75°F / 67°F
Select whether each of the following should be a major factor, minor factor, or not a factor in college admissions.
You voted: